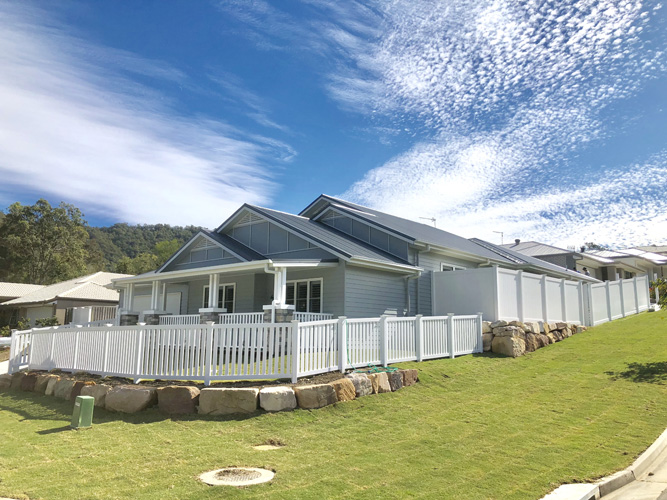 PVC Fencing has gained a lot of popularity lately, particularly due to the boom in hamptons style homes that has occurred on the Gold Coast. It is also quick to install, is attractive to look at and requires zero ongoing maintenance.
Whilst PVC is an affordable solution many clients have the expectation that PVC will be a similar cost to timber or Colorbond, but this is not the case.
As a guide, PVC Fencing is available at $190 per metre for the 1.8 metre high product. View the cost comparison table below to get an idea of how that compares to other fencing options.
Note that our parent company Platinum Property Improvements can provide installation services on all types of fencing including Timber, Colorbond, Brick, Glass, Aluminium and Modular Wall styles.
The manufacturing process for PVC fencing is more involved than timber or Colorbond. It also has more detailed and attractive styling compared to plain timber or Colorbond which is effectively corrugated sheets of metal.
The high quality, Australian made PVC fencing products we use has a 30 year warranty, compared to a 10 year warranty on Colorbond. This alone gives some expectation on lifespan you can expect when comparing those two fencing styles.
Please note pricing below is just a guide and can change depending on project size and other variables.
Fencing Style Comparison Chart
| Fence Type | Benefits | Negatives | Cost |
| --- | --- | --- | --- |
| PVC | Zero maintenance, 30yr warranty, attractive, cheaper than brick | More expensive than timber or colorbond | From $190 per metre (1.8m high) |
| Timber | Cheap | Requires maintenance, bows and rots over time | From $80 per metre (1.8m high) |
| Colorbond | Cheap, looks the same on both sides, 10yr Warranty | Easy to dint, scratch. Bottom rail can't be in ground. Reflects heat onto grass/gardens | From $95 per metre (1.8m high) |
| Modular Wall | Attractive, premium appearance. Can be rendered. Looks the same on both sides | More expensive than other options. Requires maintenance / painting. | From $240 per metre |